A beauty therapist who helps cancer patients has been banned from posting pictures of her work on Facebook ads.
Vicky Morgan, from Wadebridge in Cornwall, is trained to draw tattoos for women and men who have lost their breasts through a mastectomy.
But Facebook has censored her adverts, saying pictures of nipples, or areola, were "sexual content and nudity".
Ms Morgan said it was "disappointing and frustrating when I'm reaching out to amazing breast cancer survivors".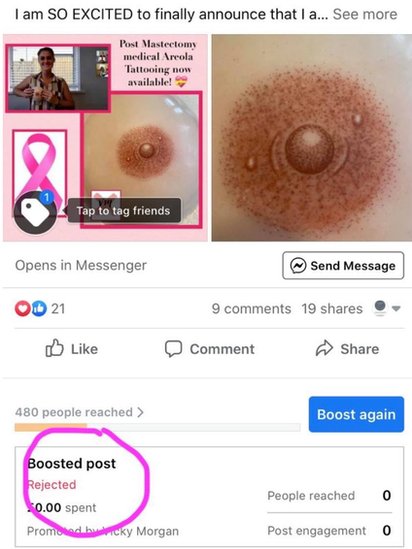 After working as a beauty therapist for 18 years, she has diversified into tattoo treatment for cancer patients who have had their breasts removed.
Her work would involve tattooing areola on a woman's reconstructed breasts if they have had surgery or, in the case of women without reconstructed breasts and men, on to flat skin.
Pictures of her new line of work on artificial reconstructed breasts have been uploaded on her Facebook page without any problems.
But when she tried to promote pictures of her work with paid-for ads, they were rejected.
Ms Morgan said: "I understand the need for them to be strict when it comes to adverts which may cause offence but feel there should be provisions in place when it comes to posts made to help people by offering services that are in the paramedical field, like mine.
"This is for breast cancer survivors who may need my services to help them claim back their confidence and make them feel like themselves again post-mastectomy and breast reconstruction surgery."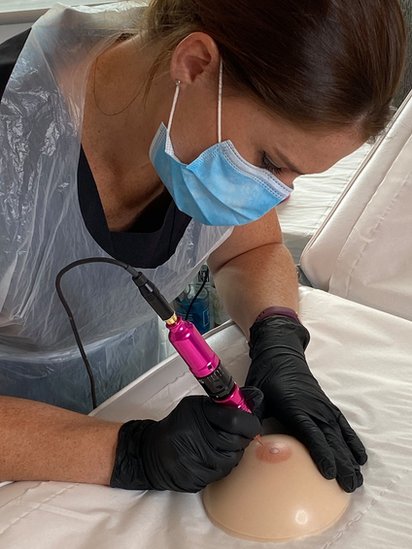 A Facebook spokesperson said the site allowed images of post-mastectomy areola tattoos on a page or profile but not within advertising.
"We do not allow people to run ads which include adult content, including nudity or implied nudity, because ads are governed by a stricter set of policies," they said.
"We recognise the important work Vicky is doing and hope she continues to use the platform to promote this."